Download the free qathet Waste Wise mobile app to your iPhone or Android device. This custom app sends waste and recycling service reminders and alerts. You can also access the Waste Wizard search tool to help find out what waste items go where.
To download the App, simply search "qathet Waste Wise" in the App store or Google play stores.
Never miss a collection day again! Get informed on waste diversion events happening in the community, reduce your environmental footprint, and be waste wise!
Sporting equipment with electrical or electronic components are recyclable in BC through Call2Recycle, a Provincially approved and monitored recycling program.
The Call2Recycle "eMobility" recycling program provides a means for consumers to recycle their end-of-life eMobility products in a safe and compliant manner. Starting March 1st, 2022, riders can:
Recycle their eMobility product by requesting an eMobility Direct Pick-Up
Drop-off their eMobility product at a designated collection facility, visible on this site locator
The program is funded by an Environmental Handling Fee applied to the sale of each eMobility product sold into the British Columbia market. Call2Recycle uses the funds to pay for the collection, transportation and recycling of the eMobility product, along with training,  materials to collection sites, and rider communication related to the program.
Accepted eMobility Products
The products accepted for recycling (collectively referred to as eMobility) are:
eBikes
eScooters
eSkateboards
Hoverboards
Ready-to-drink milk and plant-based beverages (like oat, soy, coconut, or almond) are part of the Return-It's deposit system.
These beverage containers have a 10 cent deposit on purchase which can be refunded when the empty container is returned to the SunCoast Bottle Depot (7127 Duncan) for recycling.
There are some exemptions, like infant formula, meal replacements, coffee cream, coffee additives, whipping cream, and drinkable yogurt.
Be sure to rinse out the containers, keep the caps on, and push straws in.
Milk and plant-based beverage containers can still be placed in curbside recycling OR brought to Recycle BC depots, but are not eligible for a deposit refund there.
For more information, visit ReturnIt.
Powell River's Old Incinerator Site is being transformed into a one-stop-drop recycling depot and transfer station.  The Marine Avenue site (across from the Willingdon Beach campground) will also feature the region's Ocean Plastic Depot, a free store, and an education centre.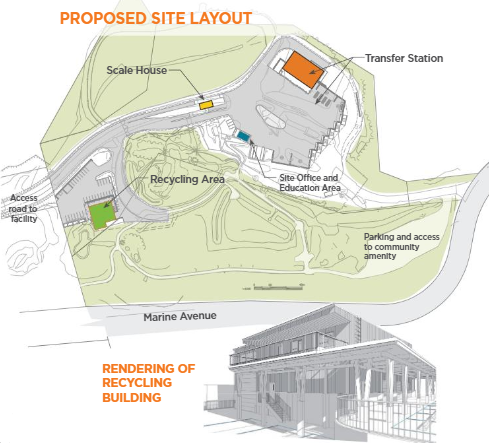 The Resource Recovery Centre is scheduled to be open to the public by Summer 2024.
This project is being conducted in three separate phases and is currently in Phase 3 the design and construction phase of the Resource Recovery Centre.
Phase 2 – Excavation & Encapsulation
Phase 3 – Design and Construction
View the History of the Resource Recovery Centre report to learn more about the site reclamation and the development of the Resource Recovery Centre.
————————————————————————————————
The closure of the Marine Avenue Old Incinerator Site and the build out of a state-of-the-art Resource Recovery Centre (RRC) and Transfer Station are key components in the region's Solid Waste Management Plan (SWMP). The RRC and Transfer Station at the site will facilitate a one-stop drop that will bring our region closer to Zero Waste. Approximately 8 acres of land adjoining the RRC site will be available for public amenity/uses limited to parking, active transportation corridor (trails) and botanical garden/s. For more information regarding any one of these opportunities, please contact the City planning department at 604 485-6291. Please note that the RRC site and adjoining land is closed to the public. Any questions should be directed to capitalassets@qathet.ca.
Individuals, groups, organizations, or companies interested in sharing their ideas for diverting waste materials through the Resource Recovery Centre site (wood waste, glass, rubble, fabrics, furniture, etc.) can contact Let's Talk Trash at info@letstalktrash.ca.
More information available on the qathet Regional District website.
Also visit Trash Bash – the annual community event for clean up of illegally dumped trash. Scheduled for May.
Click to learn more about the qathet Regional District's plan for managing illegal dumping.
The qathet Regional District is offering residents free disposal of illegally dumped trash while funding remains.  Application required.
Illegal Dumping Disposal Fee Waiver. If you are interested in cleaning up an illegal dumpsite, you can apply for a disposal fee waiver. Pre-approval through Let's Talk Trash is required.  Once approved, a physical copy of your waiver (issued through the qathet Regional District) must be submitted to Augusta Recyclers staff when dropping off collected illegally dumped trash. No household waste will be accepted. Fill in this application form and submit to Let's Talk Trash at info@LetsTalkTrash.ca OR drop off a hard copy at #105
– 4675 Marine Avenue, Powell River, BC. 
Thanks to all who continue to make an effort to clean up other people's trash so that we can all enjoy a safer and more beautiful region!
Extra Extra! Read all about it!
Let's Talk Trash love staying up to date on all things related to waste reduction. Take a dive into the waste stream with us in one of our regular publications:
On October 26th, 2020 BC's first ocean plastic depot opened in Powell River.  The depot is temporarily set up at Augusta Recyclers and will be installed at its permanent location at the new Resource Recovery Centre when the site opens in 2024.
The Ocean Plastic Depot will target materials collected from cleanup efforts as well as legacy equipment from the marine sector to divert landfill waste and reduce oceanic plastic pollution. The Ocean Plastic Depot will provide a designated location for these materials to be properly contained and select items recycled. This infrastructure and ocean plastic diversion program is made possible through a partnership between the Ocean Legacy Foundation and qathet Regional District with funding from the Department of Fisheries and Oceans.
Visit our Ocean Cleanup page for more information.
To get involved or to ask questions, please contact Let's Talk Trash at 604.485.2260 or email info@letstalktrash.ca
What are you doing with empty propane canisters? Are you tossing your cell phone and laptop batteries into your blue bin? How about lighters or butane canisters? If yes—then potentially—you are causing explosions and fires at material recovery facilities and in collection vehicles, endangering the lives of BC's recycling collectors and processors.
Follow these expert tips to rethink what you recycle and where. Help keep recycling workers, facilities and the environment safe from not-accepted, hazardous materials.
Problem Materials:
Here are some common items that when incorrectly disposed of, can harm or kill workers and cause damage or temporary closures to BC recycling facilities and waste transfer facilities.
Lithium-ion and household batteries
Single-use propane and butane canisters
Needles
Flammable liquids
Helium tanks
Knives
Flares
Electronics
Bear spray
Ammunition
Lighters
Paint
Read Warning Labels
Hazardous materials should not only be kept out of recycling bins but also out of the waste stream as well. Always read the label. Any product left in packaging that contains corrosive, toxic, flammable, or reactive components can cause major problems at the recycling facility and are often labelled with hazard text/symbols: CAUTION, WARNING, CORROSIVE, EXPLOSIVE, FLAMMABLE, POISONOUS or TOXIC.
Be Aware of Not-accepted Materials
Be mindful of what you put in your recycling bins and ensure it's an accepted material and 100% empty—not something that is potentially explosive and deadly. The risk for fires or explosions is especially high for material collection vehicles and receiving facilities due to significant amounts of paper, as well as the opportunity for the items to be compressed, causing explosions. The combination of easily flammable material, plenty of oxygen and large amounts of material where sparks can smolder undetected for lengthy periods, makes the presence of hazardous material especially precarious. View the materials accepted in your curbside recycling bin as part of our program.
Find a Location to Recycle or Dispose of Safely
When a material is not allowed in the curbside bin, it doesn't mean it can't be recycled somewhere else. Find a disposal location so problem items can be processed safely. Visit RecycleBC.ca/Hazardous to learn more and access the online depot search tool. You can also download the latest version of the free BC Recyclepedia App to search materials and find your closest recycling depot or contact the Recycling Hotline at 1-800-667-4321 or 604-RECYCLE (604-732-9253).
Let's Talk Trash is very pleased to now be hosting educational webinars on Zoom with video recordings available following the live events.
Past Webinars
Burn It Smart: Wood Stove Info Session with WETT Certified, Ron Spreeuw of Valley Building Supplies, Powell River, BC
First three viewers to contact Let's Talk Trash will receive a Wood Moisture Meter as a thank you! (info@LetsTalkTrash.ca)
Link to Zoom Recording.
Webinar covers:
best wood & fire starters
Non-EPA vs Secondary Burn vs Catalytic Combustion stoves
clean burning techniques & thermometers
stove & chimney maintenance
house pressure planes & chimney drafts
Wood Stove Exchange Rebate Program 2021 qualifications for $400-$550
Ron Spreeuw is the Co-Owner and Vice-President of Valley Building Supplies, which his dad and uncle started in 1975. Ron is also Certified as Advanced Technician, Advanced System Advisor, and Wood Energy Technology (WETT) Inspector.
________________________________________________________________________
Biochar Amendment with permaculture teacher Ron Berezan
Link to Zoom Recording. Password: 7n*25?++
Biochar is a soil amendment with a long list of benefits:
carbon sequestering
creates habitat for healthy
minimizes the need to water gardens
creation of biochar generates heat (and thus can create electricity)
easy and inexpensive to create your own at home
 ________________________________________________________________
 Composting 101 & Wire Bin Composters with Ioni Waisgluss  
Link to Zoom Recording.
Learn how to build your own composter, keep your bin safe from unwanted critters (including some bear resistance tricks), and get the most production out of your home-scale system. This session will also be recorded for later viewing.
Managing Garbage, Compost and Recycling in Bear Country with qathet Regional District's WildSafeBC Coordinator, Krystle Mitchelitis.
Webinar includes information about:
– bear biology and behavior,
– bear proof vs. bear resistant bins,
– best storage practices,
– odor reducing tips,
– electric fencing, and
– safety practices during a bear encounter.
The updated online Waste Wise Guide is here! Download and print, if needed. Hard copies of the Waste Wise Guide are available by request through Let's Talk Trash.
2020 was the last year the Waste Wise Guide was mailed to City households. Curbside schedule and area maps will continue to be available here.  Never miss your curbside collection day or important service notices by downloading the qathet Waste Wise App here.