Powell River's Old Incinerator Site is being transformed into a one-stop-drop recycling depot and transfer station.  The Marine Avenue site (across from the Willingdon Beach campground) will also feature the region's Ocean Plastic Depot, a free store, and an education centre.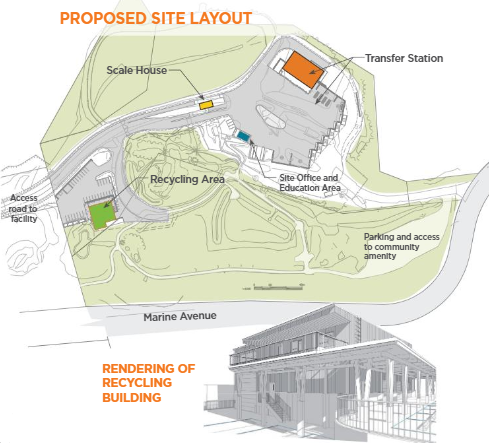 The Resource Recovery Centre is scheduled to be open to the public by Summer 2024.
This project is being conducted in three separate phases and is currently in Phase 3 the design and construction phase of the Resource Recovery Centre.
Phase 2 – Excavation & Encapsulation
Phase 3 – Design and Construction
View the History of the Resource Recovery Centre report to learn more about the site reclamation and the development of the Resource Recovery Centre.
————————————————————————————————
The closure of the Marine Avenue Old Incinerator Site and the build out of a state-of-the-art Resource Recovery Centre (RRC) and Transfer Station are key components in the region's Solid Waste Management Plan (SWMP). The RRC and Transfer Station at the site will facilitate a one-stop drop that will bring our region closer to Zero Waste. Approximately 8 acres of land adjoining the RRC site will be available for public amenity/uses limited to parking, active transportation corridor (trails) and botanical garden/s. For more information regarding any one of these opportunities, please contact the City planning department at 604 485-6291. Please note that the RRC site and adjoining land is closed to the public. Any questions should be directed to capitalassets@qathet.ca.
Individuals, groups, organizations, or companies interested in sharing their ideas for diverting waste materials through the Resource Recovery Centre site (wood waste, glass, rubble, fabrics, furniture, etc.) can contact Let's Talk Trash at info@letstalktrash.ca.
More information available on the qathet Regional District website.